The "Vallée Verte"
The "Vallée Verte" (literally "green valley") is an idyllic valley in the French Alps, only a few miles south of Lake Geneva. Situated in the Chablais in the French department Haute-Savoie (Auvergne-Rhône-Alpes region), it extends across about 13 miles in south-southwestern orientation. Its territory is identical to the former administrative district "Canton de Boëge" and comprises eight villages.
Location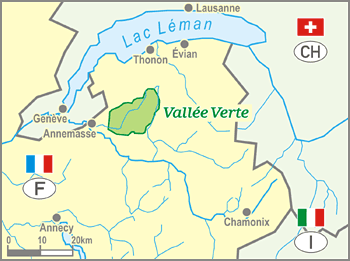 Tourism and leisure activities
As a well-known alpine holiday destination, the valley is well equipped for all types of winter sports, such as ski, snowboarding, and sledging (not only) for children. As its name suggests, the "Vallée Verte" is equally popular in summer, offering many ways of discovering nature. Whether hiking, horseback riding, cycling (mountain-biking or traditional bike tours), hanggliding or fishing on the banks of the Menoge, there is plenty to enjoy for everyone.
More information